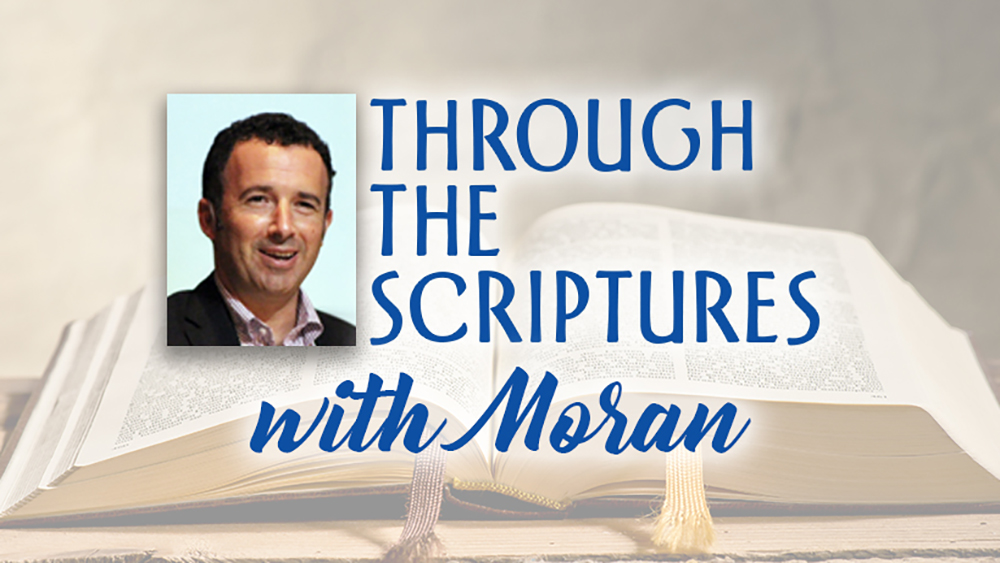 Parashat Va'etchanan (To Implore or Beg…)
(Deuteronomy) 3:23–7:11
Haftarah: Isaiah 40:1–26
The Parasha this week opens with a very tragic account as Moses implores - or begs, as translated directly from Hebrew — God to cross the Jordan to see the Land of Promise: 
"I also pleaded with the LORD at that time, saying, 'Lord GOD, You have begun to show Your servant Your greatness and Your strong hand; for what god is there in heaven or on earth who can do such works and mighty acts as Yours? Please let me cross over and see the good land that is beyond the Jordan, that good hill country, and Lebanon.' But the LORD was angry with me on your account, and would not listen to me; instead, the LORD said to me, 'Enough! Do not speak to Me any more about this matter. Go up to the top of Pisgah and raise your eyes to the west, the north, the south, and the east, and see it with your eyes; for you shall not cross over this Jordan."
Deuteronomy 3:23–27
As Moses was begging for God's mercy, we may find the LORD's reply a bit harsh in that He tells Moses to not speak about this issue to Him anymore. Yet, God had a different plan for Moses. As we find in Matthew 17:1–3, Moses did end up in the Land and more than that, he was talking to Yeshua Himself:
Six days later, Yeshua took with Him Peter and James, and his brother John, and led them up on a high mountain by themselves. And He was transfigured before them; and His face shone like the sun, and His garments became as white as light. And behold, Moses and Elijah appeared to them, talking with Him.
I personally believe that God predestined something even greater for Moses, which does bring me a great amount of comfort.
As we continue to read from the Parasha, we read some very beautiful and specific instructions that Moses gave Israel, but which are, sadly, often overlooked:
"And now, O Israel, hear the statutes and the judgments which I am teaching you to do, in order that you may live and go in and take possession (inheritance) of the land which the LORD, the God of your fathers, is giving you. You shall not add to the word which I am commanding you, nor take away from it, that you may keep the commandments of the LORD your God which I command you. Your eyes have seen what the LORD has done in the case of Baal-peor, for all the men who followed Baal-peor, the LORD your God has destroyed them from among you. But you who stick to (literally, attach to or glued to) the LORD your God are alive today, every one of you.  See, I have taught you statutes and judgments just as the LORD my God commanded me, that you are to do these things in the land where you are entering to take inheritance of it. And you shall keep and do them, for that is your wisdom and your understanding in the sight of the peoples who will hear all these statutes and say, 'Surely this great nation is a wise and understanding people.' For what great nation is there that has a god so near to it as is the LORD our God whenever we call on Him? Or what great nation is there that has statutes and judgments as righteous as this whole teaching (Torah) which I am setting before you today?"
Deuteronomy 4:1–8
Moses gave some very specific instructions to Israel, which show not only the importance of "sticking" to the living God, but also the great amount of wisdom there is living in accordance to His ways.
He then gives a stern warning to the children of Israel in Deuteronomy 4:9:
"Only be careful for yourself and watch over your soul diligently, so that you do not forget the things which your eyes have seen and they do not depart from your heart all the days of your life; but make them known to your sons and your grandsons."
And also in chapter 6:14–15:
"You shall not follow other gods, any of the gods of the peoples who surround you, for the LORD your God who is in the midst of you is a jealous God; so follow Him, or else the anger of the LORD your God will be kindled against you, and He will wipe you off the face of the earth."
As we know, Israel did not follow God in the way He instructed them. They turned their backs to Him and followed and worshiped idols, which resulted in them being exiled from the Land and scattered among the nations. So, where do we find comfort in all of this?
In the Haftara, we read of some of my favorite words of encouragement and comfort from the book of Isaiah.
"Comfort, comfort My people," says your God. "Speak to the heart of Jerusalem;
And call out to her, that her warfare has ended, that her iniquity has been removed,
That she has received of the LORD's hand double for all her sins." The voice of one calling in the Desert, "Clear the way for the LORD in the wilderness; make straight in the desert a highway for our God. Let every valley be lifted up, and every mountain and hill be made low; and let the uneven ground become a plain, and the rugged terrain a broad valley; Then the glory of the LORD will be revealed, and all flesh will see it together; for the mouth of the LORD has spoken."
A voice says, "Call out." then he answered, "What shall I call out?" All flesh is grass, and all its loveliness is like the flower of the field. The grass withers, the flower fades, when the breath of the LORD blows upon it; the people are indeed grass!
The grass withers, the flower fades, but the Word of our God stands forever.
Go up on a high mountain, Zion, messenger of good news, raise your voice forcefully,
Jerusalem, messenger of good news; Raise it up, do not fear. Say to the cities of Judah,
"Here is your God!" Behold, the Lord GOD will come with might, With His arm ruling for Him.
Behold, His compensation is with Him, And His reward before Him. Like a shepherd He will tend His flock, In His arm He will gather the lambs and carry them in the fold of His robe;
He will gently lead the nursing ewes."
Isaiah 40:1–12
These verses speak of God's tender comfort towards the people of Israel as they return from the diaspora, which, I personally believe, has been partially fulfilled in a physical manner. We are still waiting for a completion of that return in a spiritual manner, where the hearts of the Jewish people will completely return to God. We prepare the way of the Lord and there is nothing that will stop it from happening - neither mountain nor valley - will stop the word of the LORD from being fulfilled!
He is coming back and I love that amazing picture of Him as a shepherd that will tend His flock, and in His arms He will gather the lambs and carry them, protecting them. He will gently lead the nursing ewes, which is a picture of Him giving us all we need in order to walk in His ways.
There is hope and comfort in the LORD! May our eyes fully gaze upon Him alone as we prepare for His return; let us encourage others to do the same.
Shabbat Shalom,
Moran
---
Check out previous blogs on this parashah!
Did you know? — Lone Soldier