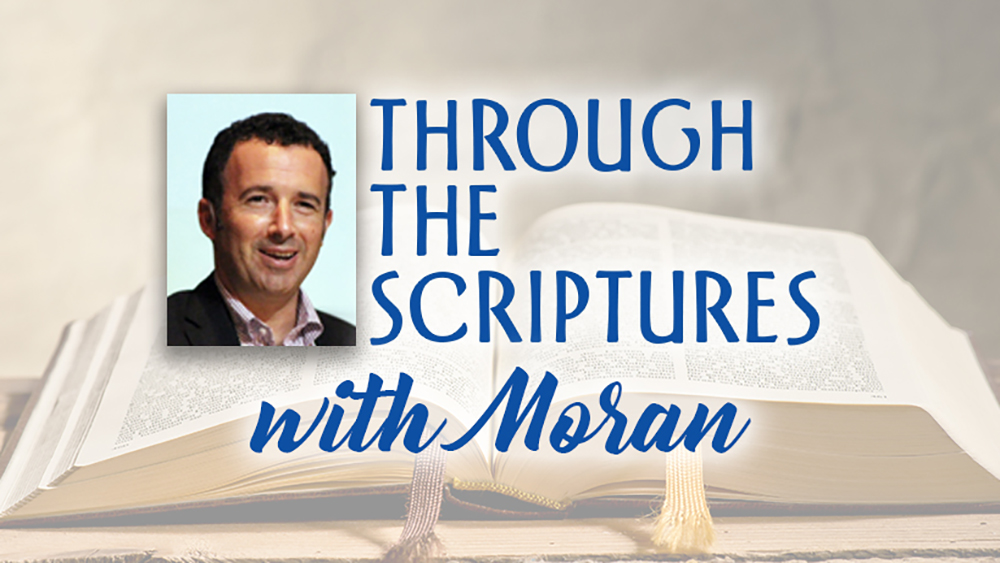 Parashat Re'eh (See or Look)
D'varim (Deuteronomy) 11:26–16:19
Haftarah: Isaiah 54:11–55:5
Often, when I travel around the world and hear other teachers teach, I am struck how sometimes teachers will neglect what God is actually saying in Scripture, in an effort to put a spiritual spin on it and prove their point. The problem with doing this is that, not only do we miss the importance of what God is actually saying, but we can unintentionally mislead others in the process.
One example of this that I often hear taught is in Acts 1:8:
"...but you will receive power when the Holy Spirit has come upon you; and you shall be My witnesses both in Jerusalem and in all Judea, and Samaria, and as far as the remotest part of the earth."
Way too often, I hear teachers (who do not live in Jerusalem or Israel, for that matter) use this verse as a metaphor to make the point that the city in which they are located is "Jerusalem" and that the surrounding cities are "Judea and Samaria". While I will not make any judgment about anyone's intentions, I can say that teaching this verse metaphorically misses the point of what is actually being conveyed here. In order to understand what is really happening here, one needs to read the preceding verses in Acts 1:6–7:
So, when they had come together, they began asking Him, saying, "Lord, is it at this time that You are restoring the kingdom to Israel?" But He said to them, "It is not for you to know periods of time or appointed times which the Father has set by His own authority;"
The disciples were asking about a time when Israel would be restored, both physically and spiritually. Remember, the entire land of Israel was under Roman occupation, and they believed that Messiah was going to free them from that occupation, as well as fully restore the Jewish people to God. Yeshua's answer to them, in my opinion, is that it was not yet time, but rather just the beginning, because His message needed to be given to the Gentiles as well. They were tasked with preparing the entire world for the restoration prophesied in Isaiah 9:7 (9:6 in Hebrew):
There will be no end to the increase of His government or of peace on the throne of David and over his kingdom,to establish it and to uphold it with justice and righteousness from then on and forevermore. The zeal of the LORD of armies will accomplish this.
However, it has to be in the order that Yeshua said it would be, beginning in Jerusalem. Why? Because when Jerusalem returns to Him, He will return to this earth (Matthew 23:37–39).
How does all this connect to our reading portions this week? The answer is in our Parasha where we read a repeated phrase "...that the Lord your God will choose". The same phrase, or a variation of it, appears in Deuteronomy 12:5; 11, 13-14, 21, 26-27, 14:23-24, 16:2, 6 and 11. I believe this phrase holds an important principle for us to remember. The fact that it repeats again and again shows us that God wants us to pay close attention. The truth is that God is the one who chooses how, where, and when He desires things to happen; we have the freedom to choose to obey or disobey Him.
The fact is God chose Jerusalem to be the city on which He has put His name:
"...but I have chosen Jerusalem so that My name might be there, and I have chosen David to be over My people Israel."
2 Chronicles 6:6
I believe that an important part of our calling as His followers is the spiritual restoration of His city in preparation for His return.
In our Haftarah reading from Isaiah 54:11–17, we read of a restored Jerusalem:
"Afflicted one, storm-tossed, and not comforted, behold, I will set your stones in antimony, and I will lay your foundations with sapphires. Moreover, I will make your battlements of rubies, and your gates of crystal, and your entire wall of precious stones. All your sons will be taught by the LORD; and the well-being of your sons will be great. In righteousness you will be established; you will be far from oppression, for you will not fear; and from terror, for it will not come near you. If anyone fiercely attacks you, it will not be from Me. Whoever attacks you will fall because of you. Behold, I Myself have created the smith who blows on the fire of coals and produces a weapon for its work; and I have created the destroyer to inflict ruin. No weapon that is formed against you will succeed; and you will condemn every tongue that accuses you in judgment.
This is the heritage of the servants of the LORD, and their vindication is from Me," declares the LORD.
Yes, sadly, when one looks at Jerusalem today, full of idol worship, corruption, division, and conflict, it is easy to wonder if this is indeed the city that God chose to be His. However, the day is coming when Jerusalem will fulfill its destiny and you and I, my dear brothers and sisters, have a very important role in its preparation.
There is only one Jerusalem that can fulfill this calling, and that is the capital of the Land of Israel. Jerusalem is not a spiritual metaphor — it is an actual, physical place. When the people of this place will return to the one and only true God, and will welcome His Son, a brand new Jerusalem will come:
"Then I saw a new heaven and a new earth; for the first heaven and the first earth passed away, and there is no longer any sea. And I saw the holy city, new Jerusalem, coming down out of heaven from God, prepared as a bride adorned for her husband. And I heard a loud voice from the throne, saying, 'Behold, the tabernacle of God is among the people, and He will dwell among them, and they shall be His people, and God Himself will be among them, and He will wipe away every tear from their eyes; and there will no longer be any death; there will no longer be any mourning, or crying, or pain; the first things have passed away.' And He who sits on the throne said, 'Behold, I am making all things new.' And He said, 'Write, for these words are faithful and true.'"
John's Vision (Revelation) 21:1–5
This is our inheritance! Are we compelled by this or do we take it for granted?
Shabbat Shalom,
Moran
---
Check out previous blogs on this parashah!
Did you know? — Lone Soldier