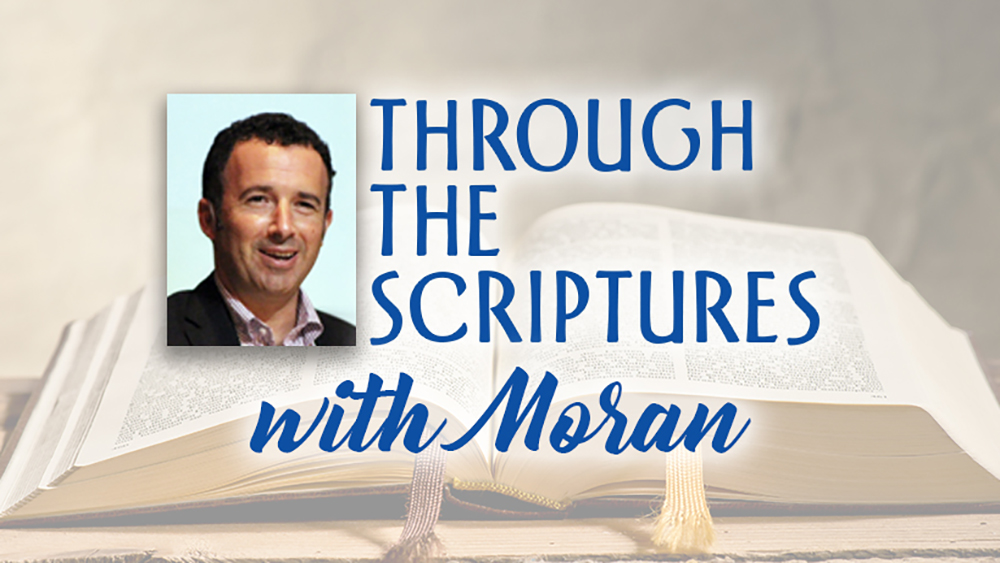 Parashat Re'eh (See or Look)
D'varim (Deuteronomy) 11:26-16:17
Haftarah: Isaiah 54:11-55:5
This week's portion is called "See" or "Look" and is based on the first words of Deuteronomy 11:26. As I read these words and what Deuteronomy 11:26-28 says, I was amazed once again by the consistency of God's Word, and how important it is for His followers to recognize it and follow it. From the beginning, God gave human beings the option to choose Him or reject Him; to obey Him or disobey Him. From the beginning, there has been a blessing resulting from obedience and a curse that results from disobedience:
See, I am placing before you today a blessing and a curse: the blessing, if you listen to the commandments of the LORD your God, which I am commanding you today; and the curse, if you do not listen to the commandments of the LORD your God, but turn aside from the way which I am commanding you today, by following other gods which you have not known.
Deuteronomy 11:26-28
Our challenge from the beginning has been – and still is – to pay close attention to God's instructions and take responsibility for our own obedience. Our own poor choices are not anyone else's fault, especially not God's!
As we continue to read in Deuteronomy 12:1-6, we see how important it is to carefully follow God's instructions; I believe the phrase "as long as you live on the earth" is valid for us who are living today:
These are the statutes and the judgments which you shall carefully follow in the land which the LORD, the God of your fathers, has given you to inherit as long as you live on the earth. You shall utterly destroy all the places where the nations whom you are going to dispossess serve their gods, on the high mountains, on the hills, and under every leafy tree. And you shall tear down their altars and smash their memorial stones to pieces, and burn their Asherim in the fire, and cut to pieces the carved images of their gods; and you shall eliminate their name from that place. You shall not act this way toward the LORD your God. But you shall seek the LORD at the place which the LORD your God will choose from all your tribes, to establish His name there for His dwelling, and you shall come there. You shall bring there your burnt offerings, your sacrifices, your tithes, the contribution of your hand, your vowed offerings, your voluntary offerings, and the firstborn of your herd and of your flock.
Why do we need to understand God's call on our lives is to follow Him in obedience? Because we are not to conform to the ways of others who do not know Him. If we do not know what He asks of us, then how can we be set apart for Him and be obedient? This was especially important for the children of Israel, that they not conform to the pagan cultures that would be around them in the Promised Land.
Another important point that we find in the above verses is the importance of doing things in the order that God asks us to. For example, as we read in Deuteronomy 12:5:
But you shall seek the LORD at the place which the LORD your God will choose from all your tribes, to establish His name there for His dwelling, and you shall come there.
This concept is repeated in Deuteronomy 12:11, 21, 22-24 and 16:2, 6 and 11. When a verse or a phrase is repeated numerous times, I believe that God wants us to pay close attention to it. The phrases "the place which the LORD your God will choose…" and "to establish His name there for His dwelling" are very important phrases.
This brings me to an issue that can be contentious among some followers of Messiah, and that is the importance of the Land. The Haftarah portion of Isaiah 54:11-17 speaks of a restored Jerusalem, which I submit is an actual, physical place. It is not a metaphor:
"Afflicted one, storm-tossed, and not comforted, behold, I will set your stones in antimony, and I will lay your foundations with sapphires. Moreover, I will make your battlements of rubies, and your gates of crystal, and your entire wall of precious stones. All your sons will be taught by the LORD; and the well-being of your sons will be great. In righteousness you will be established; you will be far from oppression, for you will not fear; and from terror, for it will not come near you. If anyone fiercely attacks you, it will not be from Me. Whoever attacks you will fall because of you. Behold, I Myself have created the smith who blows on the fire of coals and produces a weapon for its work; and I have created the destroyer to inflict ruin. No weapon that is formed against you will succeed; and you will condemn every tongue that accuses you in judgment. This is the heritage of the servants of the Lord, and their vindication is from Me," declares the LORD.
Why is Jerusalem so important? In 2 Chronicles 6:6, we read that God chose to put His name in the city of Jerusalem:
"...but I have chosen Jerusalem so that My name might be there, and I have chosen David to be over My people Israel."
Jerusalem is the most important city in the world. I believe there is a reason that in Acts 1:8 we read:
"...but you will receive power when the Holy Spirit has come upon you; and you shall be My witnesses both in Jerusalem and in all Judea, and Samaria, and as far as the remotest part of the earth."
Way too often, I hear teachers (who do not live in Jerusalem or Israel, for that matter) use this verse as a metaphor to make the point that the city in which they are located is "Jerusalem" and that the surrounding cities are "Judea and Samaria". While I will not make any judgment about anyone's intentions, I can say that teaching this verse metaphorically misses the point of what is being conveyed here. To understand what is really happening here, one needs to read the preceding verses in Acts 1:6-7:
So, when they had come together, they began asking Him, saying, "Lord, is it at this time that You are restoring the kingdom to Israel?" But He said to them, "It is not for you to know periods of time or appointed times which the Father has set by His own authority;"
The disciples were asking about a time when Israel would be restored, both physically and spiritually. Remember, the entire land of Israel was under Roman occupation and they believed that Messiah was going to free them from that occupation, as well as fully restore the Jewish people to God. Yeshua's answer to them, in my opinion, is that it was not yet time, but rather just the beginning, because His message needed to be given to the Gentiles, as well.
Years ago, I was in a debate with a pastor who was angry that I said Jerusalem is the most important city in the world, and that as God's followers, it should be in our top priority as Psalm 137:5-6 says:
"If I forget you, Jerusalem, may my right hand forget its skill. May my tongue cling to the roof of my mouth if I do not remember you, if I do not exalt Jerusalem above my chief joy."
The truth is that God is the one who chooses how, where, and when He desires things to happen; we have the freedom toeither accept or reject this. We do not get to instruct God on how He should do things, or what should be important to Him based on our own personal feelings and biases.
We live in a day and age where we have seen the physical restoration of Jerusalem back to the children of Israel. However, when one looks at Jerusalem today, full of idol worship, corruption, division, and conflict, it is easy to wonder if this is indeed the city that God chose to be His. However, the day is coming when Jerusalem will fulfill its destiny and you and I, my dear brothers and sisters, have a very important role in its preparation.  
There is only one Jerusalem that can fulfill this calling, and that is the capital of the land of Israel. Jerusalem is not a spiritual metaphor - it is an actual, physical place. When the people of this place will return to the one and only true God, and will welcome His Son, a brand-new Jerusalem will come:
Then I saw a new heaven and a new earth; for the first heaven and the first earth passed away, and there is no longer any sea. And I saw the holy city, new Jerusalem, coming down out of heaven from God, prepared as a bride adorned for her husband. And I heard a loud voice from the throne, saying, 'Behold, the tabernacle of God is among the people, and He will dwell among them, and they shall be His people, and God Himself will be among them, and He will wipe away every tear from their eyes; and there will no longer be any death; there will no longer be any mourning, or crying, or pain; the first things have passed away.' And He who sits on the throne said, 'Behold, I am making all things new.' And He said, 'Write, for these words are faithful and true.'"
John's Vision (Revelation) 21:1-5
We may not always understand why God chooses to do what He does, but we can choose if we will accept it. May we have the humility to love what He loves, and revere what is important to Him.
Shabbat Shalom,
Moran
---
Check out previous blogs on this parashah!
Did you know? — Lone Soldier