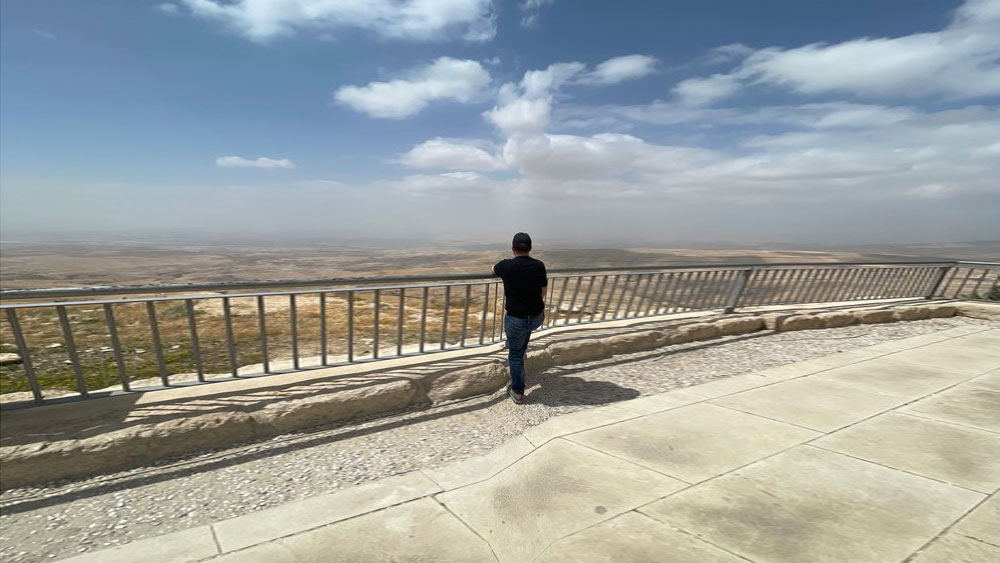 Parashat Ha'azinu (Listen)
D'varim (Deuteronomy) 32:1–52
Haftarah: 2 Samuel 22:1–51
As I was reading this week's portion, I was reminded of a very special moment in my life that took place this last May. Before, I continue, as many of you know, on January 22, 1995, I lost a few friends in a double suicide bombing which took place at the Beit Lid junction here in Israel. 21 soldiers and one civilian were murdered on that day. One of them was Yuval who was one of my best friends from the army. One of the things that Yuval and I used to do was to sit on one of the mountains on the Israeli side of the Jordan river dreaming of the day when there would be peace, and he and I would sit on Mt. Nebo (on the Jordanian side), looking at Israel together. This last May, on Israel's Memorial Day for the soldiers who died, I had the privilege to stand on Mt Nebo, and not only fulfill Yuval's and my dream, but to see what Moses saw, for the first time in my life. It was there that I was reminded of Deuteronomy 32:48-52:
Now the LORD spoke to Moses that very same day, saying, "Go up to this mountain of the Abarim, Mount Nebo, which is in the land of Moab opposite Jericho, and look at the land of Canaan, which I am giving to the sons of Israel as a possession. Then you are to die on the mountain where you ascend, and be gathered to your people, as Aaron your brother died on Mount Hor and was gathered to his people, because you broke faith with Me in the midst of the sons of Israel at the waters of Meribah-kadesh, in the wilderness of Zin, because you did not treat Me as holy in the midst of the sons of Israel. For you will see the land at a distance but you will not go there, into the land which I am giving the sons of Israel."
It was a remarkable personal moment for me to fulfill a dream I've had for many years, and to also see what Moses saw. Moses saw the Land, and indeed on a clear day, from Mt Nebo, you can see the Land of Israel, the Land of Promise. Sadly, however, Moses could not enter that Land.
I realized in that moment what a remarkable leader Moses was. Moses knew that he would not enter the Land, yet he still chose to lead the people of Israel until his death. Moses was faithful to what God entrusted to him, despite knowing that his dream would not be fulfilled. This made me ask myself how far I would be willing to go in obedience to the LORD, regardless of what I may or may not receive in return?
I would like to share an amazing connection I see between the Parashah and Haftarah portions. In both, we find two great men of faith, Moses and David, making a very important acknowledgment and declaration about who God is. Moses said: 
For I proclaim the name of the LORD; ascribe greatness to our God! The Rock! His work is perfect, for all His ways are just; a God of faithfulness and without injustice, righteous and just is He.
Deuteronomy 32:3-4
Moses' declaration that God alone is in control over everything in heaven and on earth is a declaration not just to other people, but also to ourselves that no matter what we face, our God is the living God and we need to fix our eyes on Him.
He is the Rock. The Hebrew word for "rock" here is "צּוּר֙" Tzur, which refers to a big rock or a fortress in which we can find shelter. His work is perfect because all of His ways are just. He is a faithful God who we can trust; He is righteous and just. What a great reminder it is for us to keep our eyes on the Rock and to find shelter in Him!
David also made a similar declaration which I believe that just like in Moses's case, it was based on a personal encounter with God, as David sang to God after He protected him from his enemies:
The LORD is my rock and my fortress and my deliverer; My God, my rock, in whom I take refuge, my shield and the horn of my salvation, my stronghold and my refuge; my savior, You save me from violence.
2 Samuel 22:2-3
Both Moses and David were two ordinary men with an extraordinary call to serve God. Both, while not perfect, chose to serve Him and his people, regardless of the cost or the reward.
Will you do the same?
Shabbat Shalom,
Moran
*Moran is pictured on Mt. Nebo in Jordan looking towards Israel - May 2022
---
Check out previous blogs on this parashah!
Did you know? — Lone Soldier