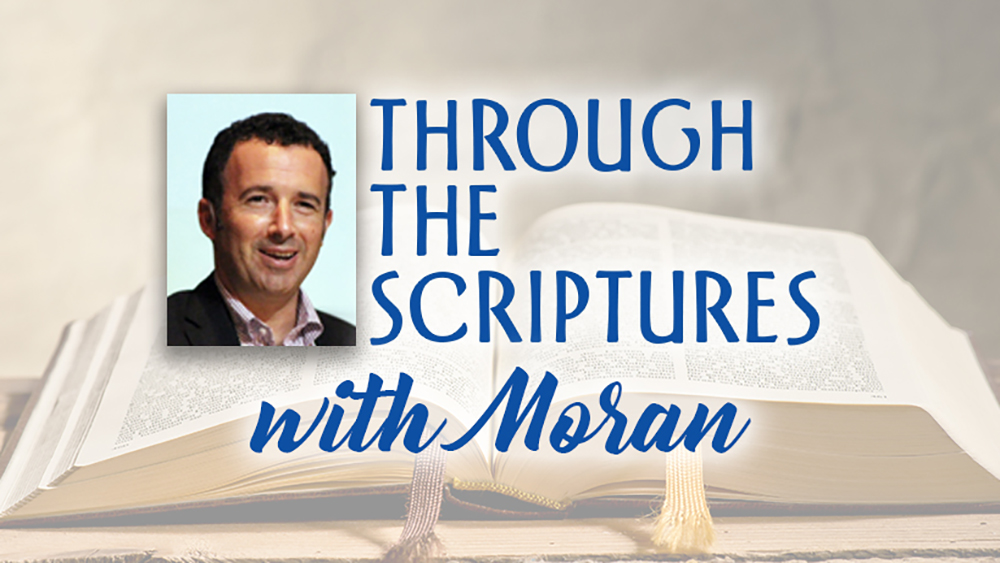 Parashat Balak
Bamidbar (Numbers) 22:2–25:9
Haftarah: Micah 5:6–6:8
In this week's Parasha, Moab — or more specifically, her king, Balak — plays a very centeral role:
Now Balak the son of Zippor saw all that Israel had done to the Amorites.  So Moab was in great fear because of the people, for they were numerous; and Moab was in dread of the sons of Israel. Moab said to the elders of Midian, "Now this horde will eat up all that is around us, as the ox eats up the grass of the field!" And Balak the son of Zippor was king of Moab at that time. So he sent messengers to Balaam the son of Beor, at Pethor, which is near the Euphrates River, in the land of the sons of his people, to call for him, saying, "Behold, a people came out of Egypt; behold, they have covered the surface of the land, and they are living opposite me. Now, therefore, please come, curse this people for me since they are too mighty for me; perhaps I will be able to defeat them and drive them out of the land. For I know that he whom you bless is blessed, and he whom you curse is cursed."
Numbers 22:2–6
Once again, we see that everyone heard of the great things that God did for Israel. Here we also see that Balak was hoping that Balaam would curse Israel and that by doing so, Balak would win the war against Israel, and drive them out of the land. He was afraid of them!
Balak did not know the God of Israel and, therefore, put his hope in Balaam (who some considered a prophet or a magician), thinking that Balaam had some magic power to bless or to curse. As we know from the rest of the story, what man intended for evil with God's elect, God turned into a blessing and indeed Balaam ended up blessing Israel.
The entire account shows us that Balaam's actions and lack of willingness to stand for God were a bad example for the people of Israel, which caused them to stumble.
In "John's Vision" (the Book of Revelation) 2:14 we read:
But I have a few things against you, because you have some there who hold the teaching of Balaam, who kept teaching Balak to put a stumbling block before the sons of Israel, to eat things sacrificed to idols and to commit sexual immorality.
Indeed, at the end of the Parasha, we read a story that connects to Balak and Balaam, which is important because it shows how Israel "played the harlot" with foreign idols:
While Israel remained at Shittim, the people began to commit infidelity with the daughters of Moab. For they invited the people to the sacrifices of their gods, and the people ate and bowed down to their gods. So Israel became followers of Baal of Peor, and the LORD was angry with Israel.
Numbers 25:1–3
Throughout the Word of God, we find this very complicated relationship between God and Israel, where Israel rebels against God again and again, yet God's unlimited faithfulness, love and grace for Israel always ends up to be Israel's redemption.
In the Haftarah, we see that God refers to this complicated relationship and ongoing struggle. In Micah 6:1–4, He reminds Israel that He not only delivered them from slavery in Egypt and redeemed them, but also sent them Moses and Miriam to lead them. We then find the connection to our Parasha when He tells Israel: 
My people, remember now
What Balak king of Moab planned and what Balaam son of Beor answered him,
and what happened from Shittim to Gilgal, so that you might know the righteous acts of the LORD.
Micah 6:5
We see that throughout this complicated relationship between God and Israel, His desire was - and will always be — for Israel to know of His righteousness, and of His endless love for them; what man intended for harm, God turned to good. His heart is still for Israel to be a people set apart for Him.
The Haftarah closes with some amazing words which I believe we would all do well to live by:
With what shall I come to the LORD and bow myself before the God on high?
Shall I come to Him with burnt offerings, with yearling calves? Does the LORD take pleasure in thousands of rams, In ten thousand rivers of oil? Shall I give Him my firstborn for my wrongdoings, the fruit of my body for the sin of my soul? He has told you, mortal one, what is good; and what does the LORD require of you but to do justice, to love grace, and to walk humbly with your God?
Micah 6:6–8
In closing, God shows His endless faithfulness, love and grace, not so that we can "pay lip service" to Him or offer empty offerings. He provided the ultimate offering in the image of His Son, Yeshua, our Messiah, and as a result, we can do justice towards others, display love and grace, and perhaps most importantly, walk humbly with Him.  In other words, we can follow in the footsteps of our Messiah who modeled for us exactly how to do this.
Shabbat Shalom,
Moran
---
Check out previous blogs on this parashah!
Did you know? — Lone Soldier