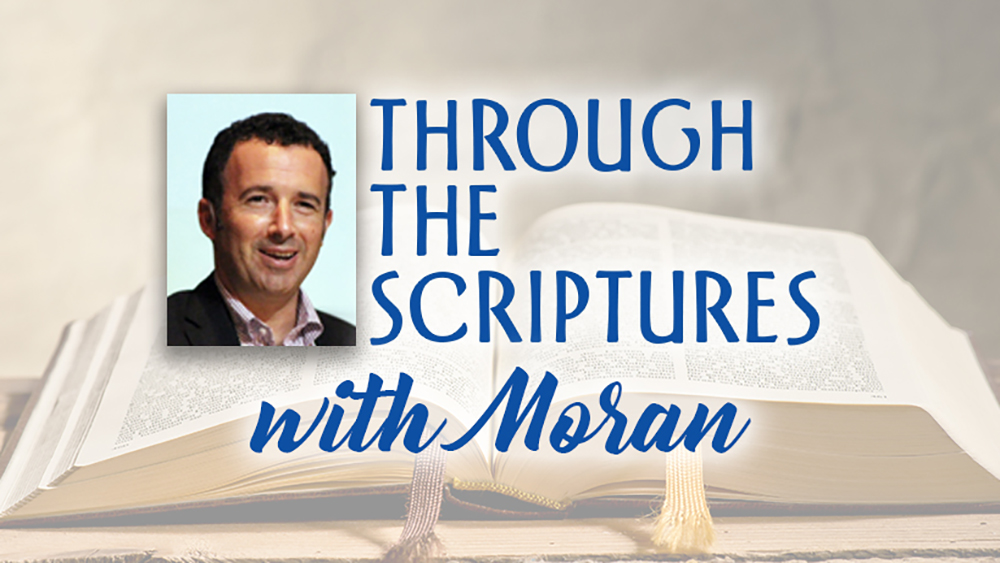 Parashat Shelach (Send Forth)
Bamidbar (Numbers) 13:1–15:41
This week's parasha reminded me once again of how important it is to keep our eyes and minds fixed on the LORD! Chapters 13 and 14 of the Book of Numbers speak of God's instruction to the children of Israel to tour (or scout) and walk the Land that He had allotted to them. All they were asked to do was to see that which God had already given them, trust that He would provide everything they needed in order to inherit that Land, and obey Him. However, as the story goes, 10 out of the 12 scouts were looking at the situation from a worldly point of view rather than God's. And they were terrified!
In Numbers 14:1–4 we read:
Then all the congregation lifted up their voices and cried, and the people wept that night. All the sons of Israel grumbled against Moses and Aaron; and the whole congregation said to them, "Would that we had died in the land of Egypt! Or would that we had died in this wilderness! Why is the LORD bringing us into this land, to fall by the sword? Our wives and our little ones will become plunder; would it not be better for us to return to Egypt?" So they said to one another, "Let us appoint a leader and return to Egypt."
As I read these verses, I found them to be somewhat ironic. The assembly of Israel complained about dying by the sword in the Promised Land, forgetting the fact that in Egypt, they were as good as dead with no rights whatsoever! They were under such severe oppression, that their lives were literally in danger every single day. It also mentions that they feared their wives and children would become plunder, forgetting that in Egypt, every male baby was ordered to be killed. In short, Israel wanted to return to… death?!
Israel's dissatisfaction led them not only to reject Moses and Aaron - whom God Himself had appointed - but also to reject God's entire plan for their future. And it all started because they took their eyes off of God and His promises, and instead looked at their circumstances from a human, worldly perspective.
As we continue we read:
Then Moses and Aaron fell on their faces in the presence of all the assembly of the congregation of the sons of Israel. Joshua the son of Nun and Caleb the son of Jephunneh, of those who had scouted out the land, tore their clothes; and they spoke to all the congregation of the sons of Israel, saying, "The land which we passed through to scout out is an exceedingly good land. If the LORD is pleased with us, then He will bring us into this land and give it to us—a land which flows with milk and honey. Only do not rebel against the LORD; and do not fear the people of the land, for they will be our prey. Their protection has been removed from them, and the LORD is with us; do not fear them." But all the congregation said to stone them with stones. Then the glory of the LORD appeared in the tent of meeting to all the sons of Israel.
Numbers 14:5–10
I find these four men's actions to be remarkable! Their act of falling on their faces shows incredible humility and courage to believe God's promises regardless of the lack of faith of the assembly. They also demonstrate a clear understanding of the seriousness of Israel's rebellion against God, which is shown by the intensity of their grief. This was one of the greatest moments of leadership in the Scriptures, in my opinion, and is a wonderful example of the posture we leaders are to take before the LORD and before those we lead. Today, we need people that are willing to stand for God even when it means going against the mainstream of the world. Like Moses, Aaron, Joshua, and Caleb, we need leaders that demonstrate humility, courage, and reverence to our God!
I find Moses's intercession for the people (who wanted to kill him, by the way) one of the most compelling parts of his character. God wanted to destroy the people, yet Moses once again chose to intercede on their behalf as he acknowledged God's amazing grace when he prayed the most beautiful prayer:
But now, I pray, let the power of the LORD be great, just as You have declared, 'The LORD is slow to anger and abundant in grace, forgiving iniquity and transgression; but He will by no means clear the guilty, visiting the iniquity of the fathers on the children to the third and the fourth generations.' Pardon, I pray, the iniquity of this people according to the greatness of Your grace, just as You also have forgiven this people, from Egypt even until now.
Numbers 14:17–19
It is during this time of great uncertainty and with all of the chaos taking place around us, that I would like to encourage each of you, my dear brothers and sisters, to re-focus your gaze on the LORD, humble yourself, take courage, and do things out of reverence to our God! Remember that our role is to stand for Him, glorify Him, and encourage those around us to do the same. And, just like Moses did, let's also continue to intercede on behalf of others, especially those who we may not feel deserve grace or mercy!
It's not about us, but about HIM. The truth is that God's judgment will one day come and each of us will have to give an account of himself to Him!
Shabbat Shalom,
Moran
---
Did you know? — Lone Soldier