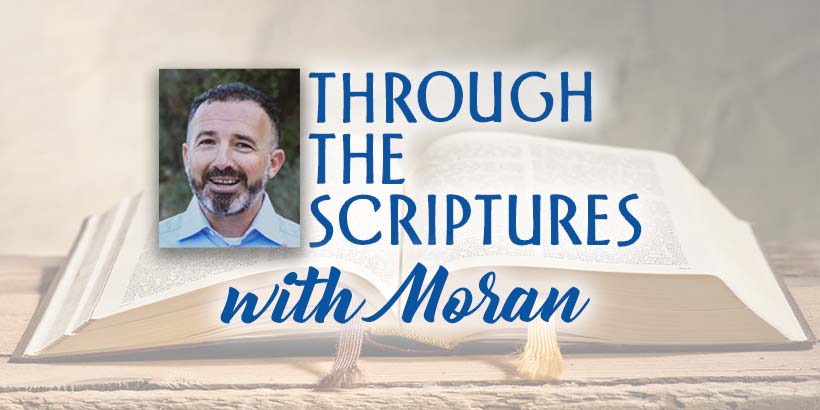 Parashat Ki Tavo (When You Come)
D'varim (Deuteronomy) 26:1-29:8
Haftarah: Isaiah 60:1-22
It's easy to allow important things to become meaningless habits. At times, there are things that we say and do that can easily become routine, losing their original significance. This can be as simple as telling our spouse that we love them out of habit, or spending time with God, which can become just another item on our daily checklist. In the Parashah, we see the importance of remembering why we do what we do in God's instructions regarding the first of the produce of the ground:
"Then it shall be, when you enter the land which the LORD your God is giving you as an inheritance, and you inherit it and live in it, that you shall take of the first of all the produce of the ground which you bring in from your land that the LORD your God gives you, and you shall put it in a basket and go to the place where the LORD your God chooses to establish His name. And you shall go to the priest who is in office at that time and say to him, 'I declare today to the LORD my God that I have entered the land which the LORD swore to our fathers to give us.'Then the priest shall take the basket from your hand and set it before the altar of the LORD your God. And you shall respond and say before the LORD your God, 'My father was a wandering Aramean, and he went down to Egypt and resided there, few in number; but there he became a great, mighty, and populous nation. And the Egyptians treated us badly and oppressed us, and imposed hard labor on us. Then we cried out to the LORD, the God of our fathers, and the LORD heard our voice and saw our wretched condition, our trouble, and our oppression; and the LORD brought us out of Egypt with a mighty hand, an outstretched arm, and with great terror, and with signs and wonders; and He has brought us to this place, and has given us this land, a land flowing with milk and honey. And now behold, I have brought the first of the produce of the ground which You, LORD have given me.' Then you shall set it before the LORD your God, and worship before the LORD your God; and you, the Levite, and the stranger who is among you shall rejoice in all the good which the LORD your God has given you and your household."
Deuteronomy 26:1–11 
As I read this account, I was reflecting on the significance of giving our "first fruits" – the best of ourselves, our money, our resources, our talents, etc. to our Creator. Afterall, it all belongs to Him anyway!
In the above Scripture portion, we see that the children of Israel were commanded to give the first of the produce of the ground as an acknowledgment of their humble beginnings. The term "wandering Aramean" means a "lost Aramean", i.e., Jacob who went down to Egypt, and then was turned into a mighty nation, Israel. The best part of the story, in my opinion, is God's redemption of Israel where He brought them to the Land of Promise through acts of great wonders. It is because of this that they were to give the first of everything – their very best - to God.
As you reflect upon everything that the Lord has given you, you can rejoice in giving back to Him from the first of everything you have. Why? Because, when we truly understand what He has done for us, we can give back to Him with a cheerful heart. In Messiah, we all have received the ultimate blessing that was initially given to Israel because we all are part of His family, Jew & Gentile alike. God gave us the first of all creation, His very best, His Son, in order to turn us who were once strangers and redeem us by His grace. As a result, we can give back to Him and rejoice in that which He did for us.
Rabbi Sha'ul (the Apostle Paul) wrote this to the gentile congregation in Ephesus:
At that time you had no Messiah. You were estranged from the national life of Isra'el. You were foreigners to the covenants embodying God's promise. You were in this world without hope and without God.  But now, you who were once far off have been brought near through the shedding of the Messiah's blood. For he himself is our shalom — he has made us both one and has broken down the m'chitzah which divided us by destroying in his own body the enmity occasioned by the Torah, with its commands set forth in the form of ordinances. He did this in order to create in union with himself from the two groups a single new humanity and thus make shalom, and in order to reconcile to God both in a single body by being executed on a stake as a criminal and thus in himself killing that enmity. Also, when he came, he announced as Good News shalom to you far off and shalom to those nearby, news that through him we both have access in one Spirit to the Father. So then, you are no longer foreigners and strangers. On the contrary, you are fellow-citizens with God's people and members of God's family.  
Eph 2:12-19
This concept is echoed in the beautiful words of the prophet Isaiah, which I believe remind us of the fact that God's light that shines on Jerusalem and it is His light that draws the nations to come from afar, as they have been grafted into His tree:
"Arise, shine; for your light has come, and the glory of the LORD has risen upon you. For behold, darkness will cover the earth and deep darkness the peoples; but the LORD will rise upon you and His glory will appear upon you. Nations will come to your light, and kings to the brightness of your rising. Raise your eyes all around and see; they all gather together, they come to you. Your sons will come from afar, and your daughters will be carried on the hip."
Isaiah 60:1-4
Shabbat Shalom,
Moran
---
Check out previous blogs on this parashah!
Did you know? — Lone Soldier