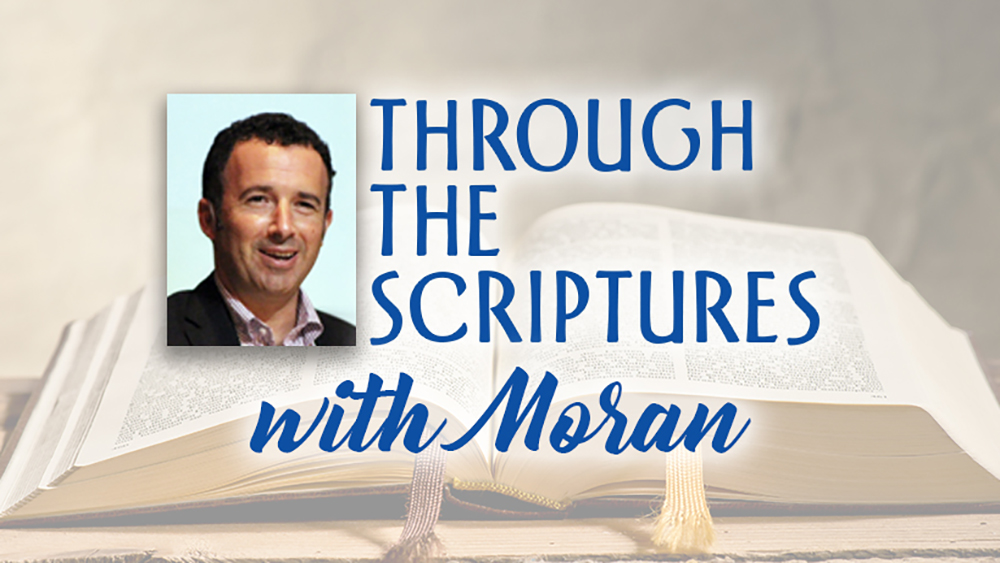 Parashat Bechukotai (In My Decrees)
Vayikra (Leviticus) 26:3-27:34
Haftarah: Jeremiah 16:19-17:14
"If" is one of the most important words that we find in Scripture, in my opinion. This week's Parasha begins with this powerful word, and brings us to a powerful portion of Scripture. I have quoted more Scripture than usual, simply because these verses are foundational to our faith:
If you walk in My statutes and keep My commandments so as to carry them out,  then I will give you rains in their season, the land will yield its crops, and the trees of the field will yield their fruit. Your threshing will last until grape gathering, the grape gathering will last until the sowing time, you will eat your bread to the full, and live securely in your land.
I will bring shalom in the land, and you will lie down, with no one making you afraid. I will remove dangerous beasts from the land and no sword will pass through your land. You will chase your enemies and they will fall before you by the sword. Five of you will chase 100 and 100 of you will chase 10,000, and your enemies will fall by the sword before you.
I will turn toward you, make you fruitful and multiply you, and I will confirm My covenant with you. You will eat the old harvest and clear out the old because of the new.
Leviticus 26:3-10 (TLV)
Here we see that God presented to the children of Israel the byproduct of walking in accordance to His precepts – what amazing blessings they were promised! In these verses, God makes it clear that earthly blessings would be connected to their obedience.
The ultimate blessing, however, is found in verses 11-12:
Moreover, I will make My dwelling among you, and My soul will not reject you.  I will also walk among you and be your God, and you shall be My people.
What a tremendous blessing to receive! The key to obedience seems to be in truly understanding what God has delivered us from, which we see in verse 13:
I am the LORD your God, who brought you out of the land of Egypt so that you would not be their slaves, and I broke your yoke and made you walk erect.
We then find another "if", which is a stern warning against disobedience in Leviticus 26:14-17:
But if you do not obey Me and do not carry out all these commandments, if, instead, you reject My statutes, and if your soul loathes My ordinances so as not to carry out all My commandments, but rather to break My covenant, I, in turn, will do this to you: I will summon a sudden terror against you, consumption and fever that will make the eyes fail and the soul languish; also, you will sow your seed uselessly, for your enemies will eat it. I will set My face against you and you will be routed before your enemies. Those who hate you will rule over you, and you will flee when no one pursues you.
The warning continues through verse 39.
One of the most amazing things about God's character is the fact that He does not change, and that His grace is present from the beginning of His covenant with Israel. In Leviticus 26:40-45, we see that God promises a remnant, which are those who will repent and return to Him, because He is full of grace and promises to remember His covenant:
But if they confess their wrongdoing and the wrongdoing of their forefathers, in their unfaithfulness which they committed against Me, and also in their acting with hostility against Me— I also was acting with hostility against them, to bring them into the land of their enemies—or if their uncircumcised heart is humbled so that they then make amends for their wrongdoing,  then I will remember My covenant with Jacob, and I will remember also My covenant with Isaac, and My covenant with Abraham as well, and I will remember the land. For the land will be abandoned by them, and will restore its Sabbaths while it is made desolate without them. They, meanwhile, will be making amends for their wrongdoing, because they rejected My ordinances and their soul loathed My statutes. Yet in spite of this, when they are in the land of their enemies, I will not reject them, nor will I so loathe them as to destroy them, breaking My covenant with them; for I am the LORD their God. But I will remember for them the covenant with their ancestors, whom I brought out of the land of Egypt in the sight of the nations, so that I might be their God. I am the LORD.
In the Haftarah portion, we see God's judgment over Israel due to their rejection of Him, as well as God's endless amazing grace to them by returning them to the Land of promise (Jeremiah 16:14-15). As we continue to read from Jeremiah, we find the same two choices as we find in Leviticus: to obey or disobey…
This is what the LORD says:
"Cursed is the man who trusts in mankind and makes flesh his strength, and whose heart turns away from the LORD. For he will be like a bush in the desert, and will not see when prosperity comes, but will live in stony wastes in the wilderness, a land of salt that is not inhabited. Blessed is the man who trusts in the LORD, and whose trust is the LORD."
Jeremiah 17:5-7
My dear brothers and sisters, we have a daily choice to make. This is not an issue of legalism; it's about really understanding what He has done for us and living in accordance with it. Afterall, true faith is lived out in action.
I want to close with a word of exhortation. If we have said "yes" to Him, then that must mean something more than just words. Do we choose to honor God with our lives, or do we take His grace for granted, fooling ourselves into thinking we can live however we want? He has cautioned us about this:
LORD, the hope of Israel, all who abandon You will be put to shame. Those who turn away on earth will be written down, because they have forsaken the fountain of living waters.
Jeremiah 17:13
May I suggest that this is a warning to those who know God, but then willingly reject Him? The truth is that if you belong to Him, you are a new creation; you no longer walk in the "old" the "new". It is a daily choice, and I pray that you have the wisdom and strength to commit to that.
The wonderful news is that, if you have forsaken God, it's not too late for you to return to Him. His endless grace is always available to you, as we read in Jeremiah 17:14:
Heal me, LORD, and I will be healed; save me and I will be saved, for You are my praise.
Shabbat Shalom,
Moran
---
Check out previous blogs on this parashah!